What can Lady Bug Delivery service do for you?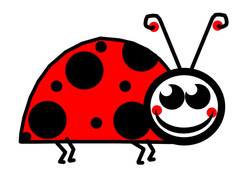 We seem to have lost the art of letter writing and letter sending and receiving. There is nothing more magical than receiving a letter in the mail. Something tangible that you can hold, touch and save. Some of most treasured items are letters and cards that I received from family and friends that have now passed on. You know, we live in such a busy world that we don't always have time to send those precious snail mail memories. That is where Lady Bug Delivery comes in.
Inspired by my sister Debbie, whom I miss every single day,
let the Lady Bug deliver the message you need to send when the time is right. Trust Lady Bug Delivery Service to send that special message when more than an email or text message is necessary. Lady Bug Delivery offers the following services. Make sure to check out our VALENTINE'S DAYS LETTERS ON THE
LOVE PAGE
TODAY!!
Birthday Letters - Holiday Letters - Condolence Letters - Celebration Letters
Love Letters - Dear John Letters - Letters from Heaven/Afterlife Letters to loved ones
Lady Bug Delivery has a large selection of stationary and envelopes for you to choose from to send your special message. Click the page tabs to view some of the choices available to you today and let us do the rest.
---